I buy lots of running stuff and gear. I have various shoes, shirts, hats and shorts. And I have seen lots of reviews of those things. But one thing I constantly buy (either
because
I need new ones or have forgotten them when packing my gym bag) is running socks. I must have 20 pair of running socks, with about 10 different makes and models. I have size 12 feet, so I am right at the edge of the sizing for "Large" socks. When I run, I wear running socks, and generally kind of expensive ones. I have tried others, and had some success, and some blisters too. Maybe the socks' fault, maybe the shoes, maybe me; but I buy running socks to minimize my chances.
On to my thoughts. All socks are left/right specific; the price listed is the price I paid (or close to it); and the pictures are what I found on the web, not pictures of my used socks (thankfully).
Gold Medal Selections
Asics

Gel

Kayano
($15)
The gold standard, in my opinion. But they are pricey and feel self indulgent and I feel a bit pretentious wearing them. They look and feel like socks a serious runner would wear, not ones worn by someone putting in 8 minute miles on a treadmill at the gym. And size Large fits a little small and snug for me. But they still feel great. A little padding in heel and toe, which is just right. Can be slightly hard to find. I recently found the socks in an XL size, which fits me very well. If I had to buy one pair for a marathon, this is it. (Rejected
Asics
socks include: Gel Nimbus and other cheaper 3 pair for $15. Nothing really wrong with them, but if I am running in
Asics
socks, I want these.) The Porsche of socks.
Under Armour Draft ($12
)
I recently saw these in a store after I developed a massive set of blisters on my heels. They have a fair amount of heel padding, greater than my Nike socks, and feel more substantial. I liked them, and they fit great. Better than the Nike (
IMO
), but can be very hard to find (I have only seen them at one store.) Slightly cheaper than
Asics
; maybe a bit premature, but let's
call them
the BMW of socks.
Nike Elite Running ($12)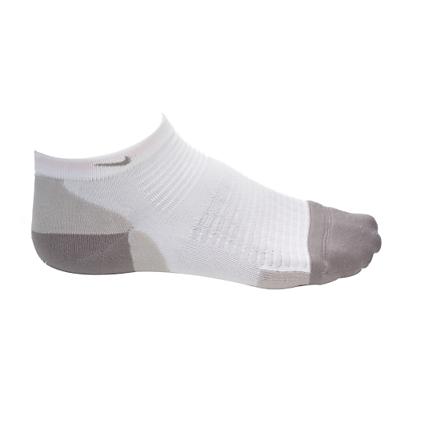 The Cadillac of running socks: high end, ubiquitous, and a good product. Nothing fancy, but a good sock all the way around. I probably have more pair of these than any others because it seems like every sports store in America that sells Nike shoes also sells these socks. Thus, if you hit an average Sports Authority,
Modell's
etc., this is likely your best choice. They wear OK, not exceptionally well, and can get a little thin after various washings. But still a very good running sock. Sometimes the "no show" model can slip a little and ride down into my shoe. I suppose it is
because
they are slightly short for my size 12 feet.
Thor Lo

Experia

Running ($15)
I generally don't like
Thorlo
socks. I always imagined that they are for burly hikers hiking mountains in the wilderness with backpacks on who need padding in their hiking boots. And they seem so big inside the shoe. Nonetheless, after the blister adventure several months ago, I saw these in the store and bought them. They are not your father's
Thorlo's
. They have a cushion heel and toe, but not much cushion elsewhere; thus they are much thinner and closer to the other running socks. And that cushion felt so nice on my heel blisters that I didn't know they were there. Would I buy again? Maybe, and they were perfect for what I needed. If you like padded socks, these are for you. I have only seen this model in one store, but it was a Champs, so might be available nationwide.
Total, Crazy Wild Card
X Socks Performance ($26)
(But now on sale for $13 at Paragon Sports)
A $26 pair of socks? What could possibly justify a $26 pair of socks? I first saw this
company
at the NY Marathon Runners Expo, and nearly bought this $220 engineered running shirt/jersey. But it was $220, and I came to my senses. But I came across the socks at Paragon and couldn't help myself.
First, X socks are made in Italy and worn by the German Olympic team in 2002, so they have to be good, right? Claims from the packaging -- which was the most elaborate I have ever seen and had several typos in it:
"The X Socks Run Performance Sock is designed with distance runners in mind, these socks offer the highest level of protection found in X-Socks' running line. From the manufacturer:

* AirConditioning Channels, AirFlow ankle pads, AirCool stripes, and Traverse AirFlow Channels all work in conjunction to keep your feet optimally cooled and bathed in fresh air to prevent blisters and reduce the onset of fatigue.
* Anti-microbial Skin NODOR fibers retard the growth of unwanted bacteria without destroying the desirable natural bacterial environment of healthy skin."
My thoughts are that the socks fit great. They also came in various sizes and tend to run large, which is good for me. Truthfully, I haven't run in them that much because I want to save them for special occasions. My thoughts are that the socks are a little hot because they have more fabric than the others. This is a review I read after I bought them and pretty much what I think. (It also has a bonus review of the $200 tshirt) But $26 for socks? No way. $13...maybe.

For those of you looking to spend more, there is a $35 model (now also on sale), whose footbed is made of 99.9 percent silver threads to decrease bacterial growth and prevent foot stink.
Emergency Gym Socks
Shortly after my two left feet shoe issue, I went to the gym only to realize I had forgotten my socks. ( They had actually fallen out of my bag on the way to the gym.) Anyway, I had to buy the socks Equinox sells for just this occasion. They were these $15 Falke running socks, which I had never seen before:
My thoughts: they were a little thin, and as I was running I could just imagine the blisters developing all over my feet. But they didn't. I don't think I will really use these socks that much because they just feel too thin and it kind of freaks me out. They feel different from the others. But if you want a micro thin sock, maybe this is it. I also have no idea if they are sold in retail stores, but I am sure you can order them online.
I also had a pair of Brooks running socks I really liked, but I lost the "right" one after the first washing. Thus, right has no mate. And they are kind of hard to find. But the "ankle" model fit nicely and did not ride down into the shoe.
In balance, all of these will serve you well during a run. Do they make you faster? Probably not. But they will help your feet avoid blisters. My only advice is to wear running socks and not normal cotton workout socks; that will make a huge difference in the way your shoes fit, the way your feet feel and in your running.